Thurs 17th April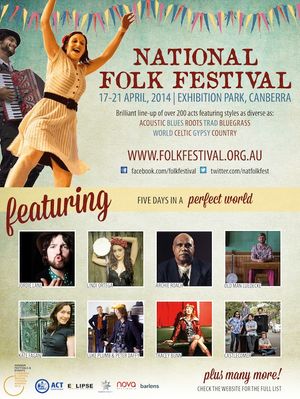 It's been quite a few years but this coming weekend I'm excited about returning to the National Folk Festival with a full band. Joining me on stage will be Damien Neil on electric guitar, Richard Grace on upright bass, Ian Morrison on drums and special guest Lindsay Martin, who will be replacing Damien on Sat night (he has to play for Neil Murray in Deniliquin!).
We aim to rock the festival with songs from my album By The Wayside as well as some new material that I will hopefully be going into the studio with in the not too distant future. 
My shows this weekend are:
Fri 18th at 11pm in the Marquee
Sat 19th at 7pm in the Majestic
Sun 20th at 10pm in the Scrumpy
plus we're in the Infinite Song competition on Sunday at 2pm so come along and see what we can do with a not so well known Elvis song!
Tickets available at the website
www.folkfestival.org.au
See you there! x