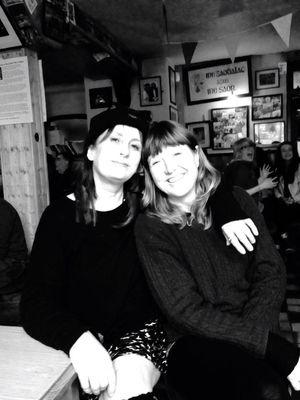 Hey all! 
Wow this year is already flying past, I can't believe it's mid March already.
Since Illawarra Folk Festival (which was the best yet!) I've been to Sydney, back to Darwin then to Sicily and am now in Ireland!
Thought I'd be doing a bit of traveling this year, and there's more to come. 

I'm in Ireland to visit friends, celebrate St Patricks Day and meet with some agents that will hopefully help me return to Ireland and UK in August for a months worth of shows. Will keep you posted on dates.
Next week I return to Sicily for a few days catchup with my good friend Chips Mackinolty before I head home to Darwin to make sure my dogs still know me.

Then Easter it's time for the National Folk Festival in Canberra where I'll be performing with my band of Handsome Devils: Damien Neil, Richard Grace and Ian Morrison. Am really looking forward to that one, especially the Infinite Song Competition where we will perform our favourite Elvis Song. Hint: it involves dancing, girls and cars! 
Back home after that to plan a few more smaller tours possibly out Kimberley way in July, then back to UK and Ireland in August.
Phew! Hope you're all having a great St Patricks Day and that you get to join in on a session or two wherever you are. Slainte!
Pic of Joan O'Hanrahan and myself at the Roadside Tavern In Lisdoonvarna after the St Patricks Day Parade.
Upcoming April Shows:
Wed 2 April - Dinah Beach Cruising Yacht Club, Darwin NT 7-10pm
Fri 4 April - Darwin City Library, Darwin NT 12.30-1.30pm
18 to 20 April - National Folk Festival, Canberra ACT (see website for performance times) www.folkfestival.org.au