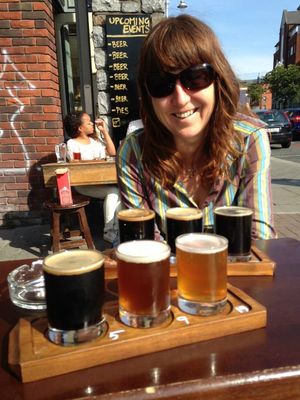 Pic Maryanne Butler - Beer tasting in Dublin
Dia Dhuit from County Clare!
As usual time seems to get away from me and I am always stunned at how long it has been since I wrote my last lot of news.
This is just a short post to say I'm back in the land of the Guinness and green, visiting good friends and playing some tunes. This Tuesday Aug 18 I will be doing a show at
Kenny's Bar
in Lahinch for all you Clare mob and other adventurous travellers in the neighbourhood. I will be joined by Sonja Obrien on fiddle and John Harrison on tenor resonator guitar. I'll be sharing the night with local Kildare lad
Peco McLoughlin
aka Valentine Black so it will be a great night of original Americana/country folk rock.
Then I have a few Aussies joining me and my Irish mates for a party on the weekend and no doubt we will be lifting the roof at Kilshanny House with some raucous music making and tom foolery! With
Doolin Craft Beer and Roots Music Festival
on this weekend as well, I don't think there'll be much sleep being had.
I have a couple of weeks here (to write some new songs!) then I'm off to visit some more friends in Berlin and other places of which I'm letting the wind blow me to.
Back in Aus mid September for a show at The Gasoline Pony in Sydney with Mick Daley and his motley crew Sun Sep 20 5-8pm.
Slan!