Fri 16 May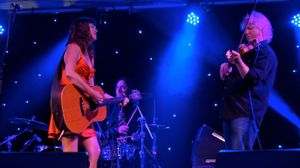 What an amazing time I had at the National Folk Festival. Despite the freezing temperatures at night, people still managed to come out and enjoy the shows, tho I must say the session bar was absolutely heaving, being one of the warmest places on site! I got to catch up with old friends ( Sam Martin, The Cowgirls first bass player being one of them) and make heaps of new ones including Rory Mcleod and Paul Monk. Had the best shows as my band all rocked out and made me look so good. Thanks to Damien Neil, Richard Grace and Ian Morrrison, and to Lindsay Martin who stepped in on fiddle for my Sat night show. Thanks also to Will McIntyre and Jaqui Fine for being the impromptu brass section in the Elvis comp, and Rory Mcleodfor being my music stand and for playing trombone. Was the most hilarious bit of fun I've had in a while! I have uploaded photos on my Facebook page
here
. 
Now I'm back in Darwin enjoying the beautiful dry season weather and getting myself organised to get back out on the road again.
First up will be a tour out to the Kimberley in July with my Handsome Devils. Details below with more to be confirmed.
Then Aug/ Sep I'm working on heading back to UK and Ireland, maybe Sicily as well. Will keep you in the loop with this one. 
October could see me make an appearance in Adelaide, and November back to Victoria, both places for the first time in quite a while.
There have been so many people complimenting me on my songs and encouraging me to get back out and share them with people at a show.
It's been some time since I committed to regular touring, so thankyou for giving me a good kick up the bum and getting me inspired to get back out there. 
Thankyou to everyone who has bought my CD, came to a show and who have spread the word amongst friends about me and my music. I really appreciate this, as everyone knows there's already so much great music out there!
I look forward to catching up with you all again sometime real soon. 
Love from the Top End
Tracey 
Upcoming Shows:
Wed 4 June - Dinah Beach Cruising Yacht Club, Darwin NT  7-10pm 
Fri 13 June - Darwin City Library, Darwin NT 12.30-1.30pm
Fri 13 June - Browns Mart Courtyard, Darwin NT 5-7pm
Sun 29 June - Nightcliff Markets, Darwin NT 10.30am -1.30pm
Wed 2 July - Dinah Beach Cruising Yacht Club, Darwin NT  7-10pm 
Fri 11 July - Gullivers Tavern, Kunnunurra WA  time tbc
Sat 19 July - Kakadu Groove, Jabiru NT time tbc
Wed 6 Aug - Dinah Beach Cruising Yacht Club, Darwin NT  7-10pm