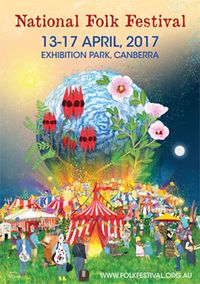 I know I've been terribly slack with keeping you up to date with what's been going on but to tell you the truth there has been very little.
I've made a conscious decision to step back from the music for a while so I can reconnect with the reasons I started writing in the first place. The joy of telling a story, making people laugh - or cry, and just the sheer pleasure of picking up my guitar and playing for the fun of it. It's funny how these things can disappear without you knowing it till one day you realise you're not having as much fun any more. 
I have a good feeling 2017 is going to be a better year and that things are going to change very soon.
One exciting thing that has happened is that I have applied for a creative in residence program that could see me based at the NT Archives, where I plan to write an album of material based on the oral histories of Wild Women of the Northern Territory. There has been quite a few! Then record the material with my good friend and amazing producer/musician/songwriter Anne McCue. Fingers crossed (toes and everything!) that I'm successful. 
Aside from that I've been working with Kieren Sanderson and City of Darwin on a mobile outdoor activity hub called
Faces in Spaces
, activating public spaces with creative and fun things like workshops and live music. It's been challenging and fun, but wound up now due to the wet season arriving. Now it's time to take a break and enjoy the rain and catch up on a few things I've been neglecting.
I hope you all have a great Christmas break wherever you end up and that I get to see you somewhere in the New Year for a catchup beer or two. So far the only show I have is the National Folk Festival in Canberra over Easter. I hope to see many of you there.
Here's to more music, laughter, peace, love and new adventures in the New Year. Oh and lots of good beer!
Cheers
Tracey