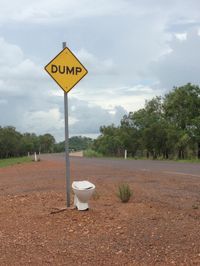 The road into Nauiyu (Daly River community).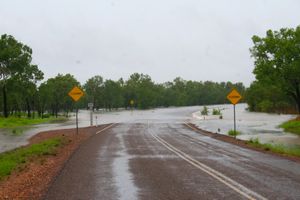 100m down the same road on Boxing day 2015.
Feb 2nd 2016
Happy New Year all. Yes I know it's Feb already. 2016, how did you creep up on me!
Yet again I've managed to let time slip away from me although I've really needed the last few months to rest and recover from a bout of anxiety. I pulled the plug and headed bush to my place out at Daly River where peace and quiet reigned and all I had for an audience were the birds, the wallabies and the resident frill necked lizard! The Daly River flood over Christmas made things even quieter, though being up on a hill meant the animals were plentiful and a lot more friendly, including a bull buffalo that came charging down the firebreak at me - followed by a panting smiling dog that thought chasing buffalo was way better than wallabies!
I'm back in Darwin now, getting myself on track for a big year of music and touring.
The next few weeks will see me in local libraries, a yacht club and a Bowie Tribute night before I head off to Melbourne for a show at The Drunken Poet on Feb 14. It's Valentines day so come down and share the love!
After that I'll be doing a road trip back up to Darwin with my good Irish mate Sonja O'Brien who's out here experiencing her first Aussie summer. (She'll also be playing fiddle at the Drunken Poet show). That should be a hoot!
Then head down bum up into booking my next Ireland, Germany, UK tour for August September.
While I'm in Ireland I'll also be working on recording my new song about that beautiful wild place and doing a video clip. Stay tuned!
But before that I'm hoping to get a video of a song I cowrote with Chips Mackinolty, about his good friend and writer Andrew McMillan, released. 
In between all that Chips and I have started a house concert/ art gallery called The Living Room, which has seen the likes of Leah Flanagan, Don't Mention the Wall, Christa Hughes and the inaugural It's A Dogs Life exhibition. All have been wildly successful and we're looking forward to hosting more music and art this year. Next cab off the rank will be an Irish themed concert featuring Sonja O'Brien (Co Clare, Ireland) and Ingrid Wangle (Adelaide) with Richard Grace (Melb) on upright bass, around St Pats day. Check
show
schedule for details.
Well for me now it's back to the garden to make the most of this beautiful rain and get some things planted.
I hope to see you all at a show somewhere or at a local pub for a beer or two and a chin wag.
Thanks again for your support and for buying my music and spreading the word.
Let's keep live music happening by going out to a show and supporting your local musicians.
Cheers
Tracey