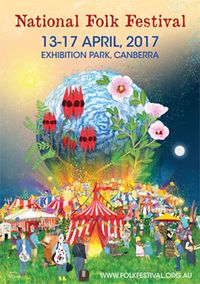 Hey everyone. 
Just a quick hello to reassure you things are still kicking along on at my end despite the way a lot of the world seems to be going crazy.
It's been great to have been able to take some time out these last couple of months and to have some space to figure out whats important to me. One thing that has really become clear is that time is flying along at a massive rate of knots and we don't have any to waste!
The things I thought I were going to be doing this year never eventuated. However, after a serious case of panic anxiety, a new door has opened and I have been given an opportunity of following a dream I've had for many years in food. More details on that soon!
But for the very near future (next week!) I will be getting on a plane to Canberra for the National Folk Festival where I'll be performing with good friends and great musos Richard Grace and Damien Neil.
I have some new songs up my sleeve and a new found inspiration to get out there and share them with you all. Am really looking forward to catching up with many old friends and to hopefully make some new ones as well. This'll be my first musical adventure this year aside from my solo library shows in Darwin. I'm ready to frock up and rock out! 
I have a few more gigs in the works but will let you know more as they're confirmed. Until then, see you at The National! 
Cheers
Tracey xo