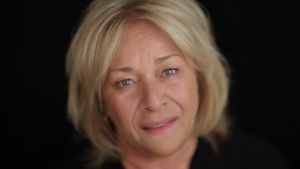 Pic: Colleen from her new video, Shut Up and Let me Breathe – out soon. For Violence Free Families –a Rotary initiative.
Hey everyone.
 I'm really excited to let you know Colleen Hewett is releasing my song Shutup and Let Me Breathe as the first single from her new album Black and White, her first in 15 years. She has teamed up with Rotary and the song is being used as part of their campaign Violence Free Families. I was honored to be asked to take part in the video. 
The Herald Sun is running a FREE download of the single and clip this Friday 15th May, so all you mob please log on to the Herald Sun site on Friday and download the single and video ...it will help big time!     www.heraldsun.com.au
She'll be appearing on The Morning Show with Richard Wilkins on Monday to talk about the album release next week and Rotary Australia's domestic violence initiative. I get a mention!
I am so proud my song has been recorded by one of Australia's best female performers and that its being used as part of a campaign against family violence, something most of us have been touched by at some point in our lives. 
Friday people! Spread the word. Colleens version of my song is amazing!
Cheers
Tracey xo