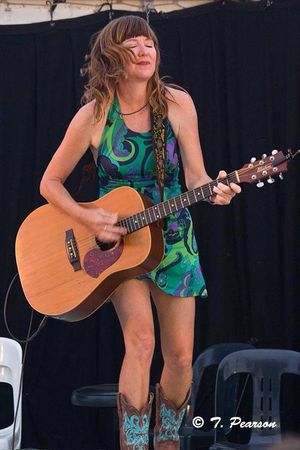 Rockin' out at Newstead Live    Photo Trevor Pearson
Hey all.
I cannot believe how fast this year is tearing past. One more week and my festival season is over and I'll be heading back north.
This last couple of months has been so much fun, playing at Cygnet, Newstead, and Cobargo Folk Festivals as well as returning to Melbourne for some follow up shows from my trip in November.
I've had great catchup times with old friends and made some amazing new ones. I have three more shows so if I haven't caught up with you yet, please come down and share a beer or two and some tunes.
Also will be joining Denise Hylands on her show
Twang
on RRR  this Sat 14th March between 2-4pm. We will certainly have some things to catch up on as the last time we chatted was with the Cowgirls in studio 10 years ago!
Thanks so much to everyone that has come up to me after a show and told me how much they enjoyed it and gave me tips on other festivals and gigs that would be good for me to perform at. I'm always looking out for new and fun places to play.
Also to all the musicians that I've shared a stage or session with. You give my songs a new lease of life. That is the reason I love festivals!
Hopefully I'll be heading back out again in the not too distant future to play another festival or show. Until then, my last Melbourne dates are:
Friday 13 Mar
-
Wesley Ann
front bar, Northcote
6-8pm
 with Richard Grace on upright bass.
Sat 14 Mar
-
Lomond Hotel,
E. Brunswick
9.30pm
with Sally Taylor on fiddle and Richard Grace on bass.
Sun 15 Mar
-
Drunken Poet
, West Melbourne
4-6pm
with Sally Taylor on fiddle and Richard Grace on bass.
Hope to see you at one or all of these shows for a beer before I head back home.
Cheers and beers
Tracey x