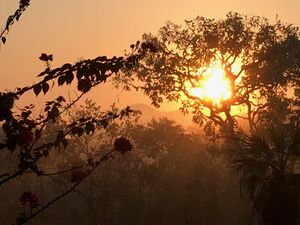 I woke up this morning another year older to a beautiful foggy Daly River sunrise. The best birthday present you can get is the one nature brings out for you. 
I've only been down here for a few days but already feel refreshed and rejuvenated after a manic few months of busyness in the city. 
Yesterday I finally managed to get back into one of the courses I started in lockdown last year on underscore. If you're not familiar with that term, it's making music for film and TV. The course runs a challenge every month to test your production skills by having you create a piece with specific meta data (sound selection and descriptive words). 
This month was Melancholy Piano, due yesterday! 
One of the other courses I'm doing is on music production, and as I'm still not overly proficient, I felt like I was stumbling around my recording software grabbing for sounds and trying to piece together a puzzle of meta data to create something that conjured up melancholy/suspense/sadness before the deadline. Oh and I really need a course on playing piano! 
When it got dark and the bugs descended on my computer screen, I was forced to call it quits and submit what I had. I was actually pretty happy with my effort. So much so I've decided to share my little piece with you HERE
I'd be really grateful if you could let me know what you think. What images and emotions does it conjure up for you? This will help me get better at this stuff so I can get my pieces into a music library and maybe in a movie! 
While you're there, I'd love it if you could leave a comment and subscribe to my YouTube channel. That way you will know when I add new videos and as I need 100 subscribers to have my own personalised URL you will be helping me get my name out there a little bit more as well! 
Stay tuned for more music coming your way soon.
Join my mailing list and you find out about it first!
Thank you so much for being there for me and helping me be the best I can be at what I love - creating music for you all. 
Have the most wonderful day wherever you are. And if you are in lockdown or can't make it out to enjoy a piece of nature today,  I hope my sunrise pic above puts a smile in your heart. 
Biggest hugs 
Tracey