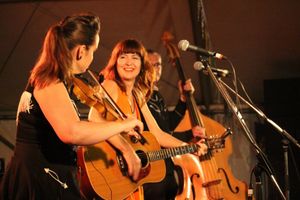 Mount Beauty Music Fest with Sally Taylor and Richard Grace. Photo Innes Campbell.

As usual time has slipped by me again. One day I'll get on top of this regular posting thing!

The last few months has seen me do a quick trip to Melbourne for a Valentines day show at The Drunken Poet then a road trip back up to Alice with good friend and fabulous fiddle player Sonia O'Brien from Co Clare who was experiencing her first Aussie Adventure. That was fun but cut short due to a death in the family. She says she'll be back in time for next Nariel Creek! She is also now aware that Australia is a huge country. An hour out of Port Augusta..."when are we going to get to the next Village?" ....gave me a good laugh!
 
Back in Darwin I have been having a good look at myself regarding what I'm actually doing and what I need to be doing. When I figure that out I'll let you know! In the meantime I will be pulling back on touring and doing less gigs and concentrating on getting the passion back and writing and learning new songs. I'm looking forward to a few special shows, one being Mandorah Ukulele Fest in June and possibly a secret festival out bush??? Stay tuned for more info on that one.
Right now I'm in Melbourne after a beautiful weekend of music at Mount Beauty Music Festival. Fabulous venues, great sound and wonderful local hospitality. Tho I reckon it could've been a tad warmer! Holed up today trying to shake off a pesky sore throat threatening to evolve into a full blown flu. No chance of that happening. I have paracetamol and whiskey :) 
Plus I have a few more gigs this week while I'm here. 
One in particular I'd love to see all you Melbourne mob at is Fridays show at Albert Park Yacht Club. I will have the amazing Damien Neil back on guitar for the first time in a very long time and Richard Grace on upright bass. I always end up having such a great time with these two guys and with Damien you never quite know what's going to happen. There have been moments of incredible hilarity, with our audiences often being confused as to whether they've come to a standup show or a musical gig! 
There'll be hot finger food included and drinks at club prices. 
For those of you unfortunate enough to not be able to make that show I'll be at the Lomond on Wed for a short solo acoustic set, Radio Springs Hotel on Sat and The Drunken Poet on Sun. See below for details. 
This will be my last visit to Melbourne for this year as plans go right now, so I hope I get to catch up with a few of you while i'm here this time for a beer and a chin wag. 
Otherwise you could always come to Darwin! 
Thanks again for your support and for buying my music and spreading the word. 
Let's keep live music happening by going out to a show and supporting your local musicians.
Cheers 
Tracey  
Wed 4 May - Club Acoustica, Lomond Hotel (solo acoustic) 8.15-8.45pm 
Fri 6 May - Albert Park Yacht Club, South Melb with Damien Neil and Richard Grace 8-11pm. Pre book tix at: taxman@bigpond.net.au or call 03 9690 1233 BH. $20 pre book, $25 cash on the door. Includes bread and dips before show and hot finger food at interval. Drinks at bar prices. Please book in advance to ensure adequate catering. 
Sat 7 May - Radio Springs Hotel, Lyonville 6pm. Bookings 03 53485562 
Sun 8 May - Drunken Poet, West Melb 6.30-8.30pm